Results tagged "of the minute" from one management blog
» Post a comment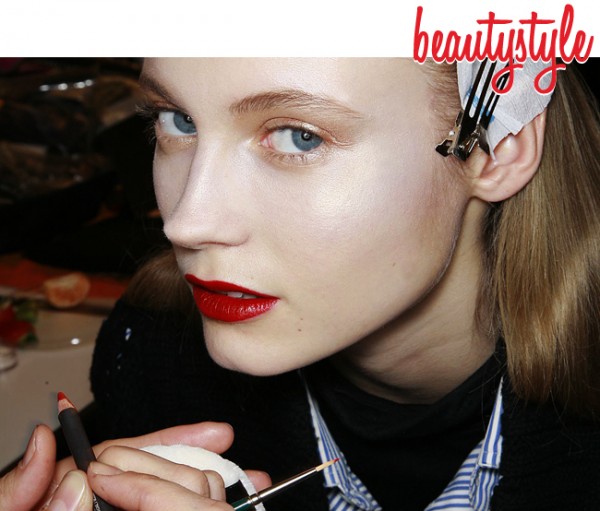 Lets face it, models are genetically blessed. The amazonian height, the alien features, the hair straight out of a shampoo ad - it all combines into a stunning package. While credit has to be given to good ol' DNA there are a few tricks of the trade girls use to perfect their already enviable looks. For our newest feature Beauty Style we give you a sneak peak into just what keeps those famously lovely faces camera ready 24/7.
When it comes to style Charlotte Di Calypso, is quintessentially French. Arriving at our afternoon meet up in minimal makeup, a Chanel J12 watch and the perfect blue jeans Charlotte looked every bit the fresh faced ingenue. Though the lanky beauty has walked for luxe designers like Chanel, Dior & McQueen, she takes a less is more approach to beauty. Her simple, easy routine is effortlessly chic and emphasizes quality rather an an overloaded makeup bag.

Charlotte's Essentials
Mascara: "Yves Saint Laurent has an amazing mascara  YSL Faux Cils."
Blush: "When I want a little blush I use Guerlain Terracotta which is very nice and natural."
Makeup Remover: "My makeup remover is Chanel and its really good especially for the eyes."
Fragrance: "I love Chanel Chance perfume, its my favorite for spring summer because its so floral and light but in winter I use Alien by Theirry Mugler, which is amazing."
Lips: "I like more of a stain because it looks natural for day to day."
Runway Beauty Moment: "The makeup at Dior can be crazy but its still so beautiful and artistic."
Beauty Rules: "We travel a lot for work and my skin can get really dry after all that flying so I like to use a rich moisturizer. As a model I get to try on many different looks but when I have a day off I don't wear make up - I just let my skin breathe."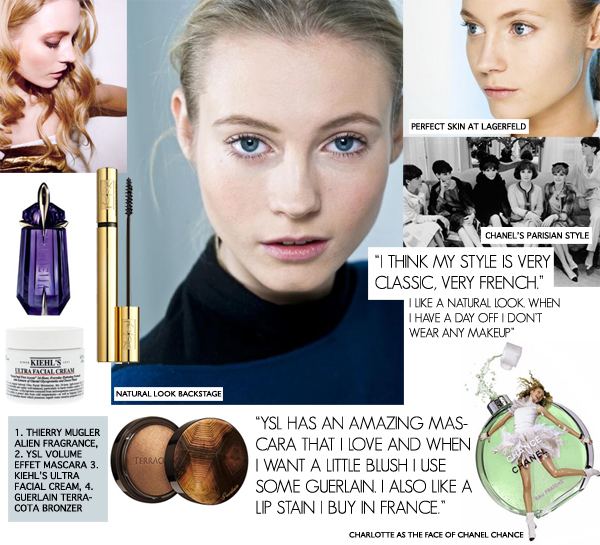 March 30th, 2009 by Janelle
Bridget Hall is a true classic. Though she can pull off any look it's her effortless embodiment of All-American beauty that made her a star. Equal parts athletic and aspirational Hall has graced nearly every campaign and magazine under the sun - Vogue, Versace, i-D, Gucci - you name it she's done it. With her enviable composure and natural grace it's no wonder that she has retained her status as a girl most wanted. Armed with a fresh set of polaroids and that legendary work ethic there really is no stopping her.